Packaging Systems

case sealers, tape dispensers,
& stretch wrapper machines

---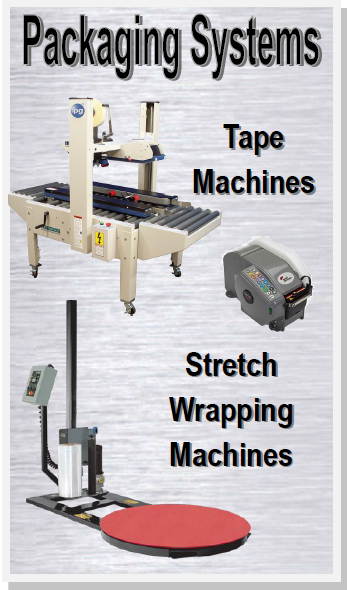 Increase packaging efficiency by choosing one of our tape or stretch wrap packaging system products. Packaging systems offer 3 major benefits to a facility with frequent shipments and regular product packaging. They provide an ergonomic solution and eliminate the bending, twisting, and strain personnel who wrap pallets daily put on their bodies, they provide uniformed consistency in the packaging and quality of the wrapping which cuts down on shipping mishaps or product damage in transit, and lastly packaging systems increase efficiency and output when preparing packages or pallets for shipment. All of these benefits combined not only save the company money in labor costs for time spent packaging shipments, but also they provide a safe work environment that cuts down on strenuous activities that cause common worker injuries.
---
Tape Machines
Carton sealing tape systems offer unrivaled reliability and not only improve productivity in packaging and shipping departments, but also reduce material usage and dramatically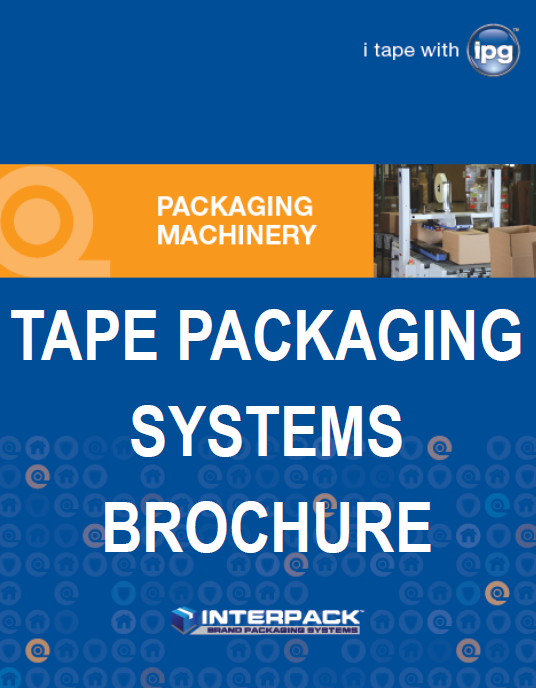 decreases user strain. We offer a full line of operator-fed and operator-free machines. Types of tape systems include from uniform and random case size automatic and semi-automatic case sealers, tape heads, and WAT (Water Activated Tape) Dispensers. Simply determine what styles and sizes of cases your facility uses, identify the type of tape that works best for facilities application, and take into consideration the materials you are packing to choose a packaging system that is right for you.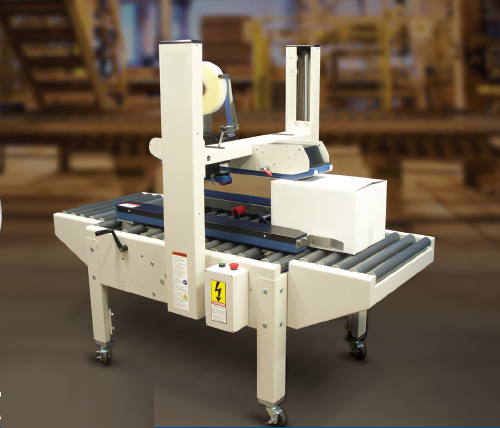 Uniform Semi-Automatic Machines
Ideal for packaging lines sealing many cartons of the same size, these sealers are easily adjustable to the size of boxes and are operator fed into the machine. Featuring side belt drives and dual columns for maximum stability, each case sealer model is equipped with adaptive technology to provide optimal tape application and wipe down to each of the three taped panels of the case.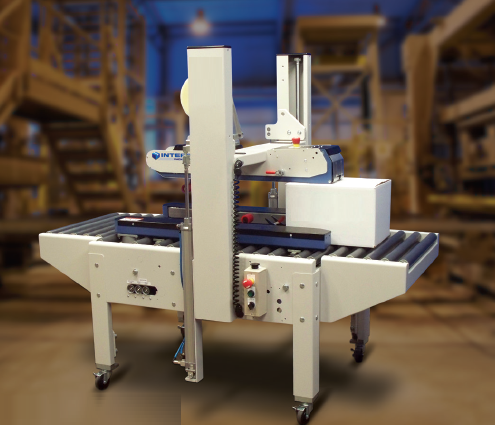 Random Semi-Automatic Machines
Used for miscellaneous shaped packages, the random semi-automatic machines are operator-fed and automatically adjusts for the miscellaneous shaped cartons that travel through the machine. Available 2 modes of operation, the top & bottom random sealing or the simple  bottom random sealing, these machines adapt to the packages and provide a reliable seal every time.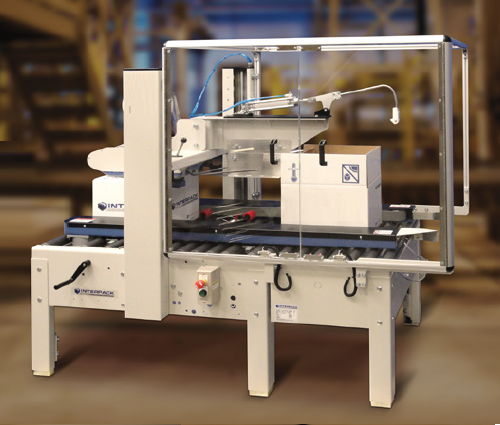 Uniform Automatic Machines
Adjustable and operator free, these machines process same sized cases and are ideal in settings when production flow rates exceed manual processing. They feature a side belt drive to secure cases during processing and twin HP drive motors rated for 24/7 machine operation. Designed for easy operation and setup, the machine self-adjusts to new case lengths.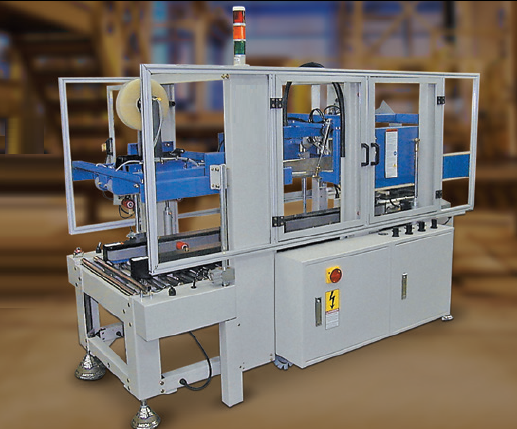 Random Automatic Machines
This automatic case sealer processes random sized cases without need of an operator. The machine sequences the cases as they enter the machine and self-adjusts for length, width, and height before sealing both the top and bottom of cases. With built in twin sets of side drive belts propelling the cases and dual station upper assembly, these units can process up to 10 cases per minute.


Water-Activated Tape Dispensers
These tabletop dispensers offer a ergonomic and time saving alternative to handheld dispensers. Available in lever operated manual or electric, WAT dispensers can be operated one-handed and the ergonomic choice for light to high volume applications in mail rooms, packing stations, or even local markets to package produce.

---
Stretch Wrap Machines

Stretch wrap machines unitize, compress, stabilize, and protect bundles as they are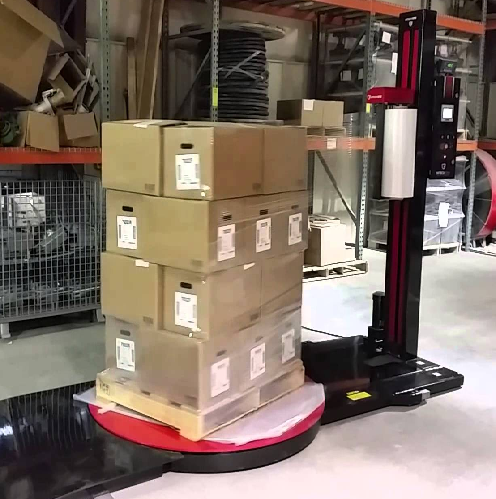 prepared for shipping or storage. Available in operator controlled, semi-automatic, and automatic models, stretch wrappers increase worker productivity during pallet preparation, decrease strain on workers that would otherwise be manually hand wrapping pallets, and it saves material by utilizing the stretch and capabilities of the wrap being used. These systems are perfect in busy shipping centers with consistent pallet handling, or facilities where uniformed and reliable bundling is a priority.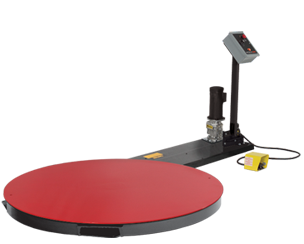 Operator Controlled Stretch Wrapper Systems

The basic operator controlled turntable models are perfect for facilities with a low volume of pallets needing to be wrapped but still looking for an efficient and ergonomic alternative to hand wrapping pallets. Operators load the turntable, attach the film, control the speed of the turntable with a foot switch, and wrap the pallet as it turns.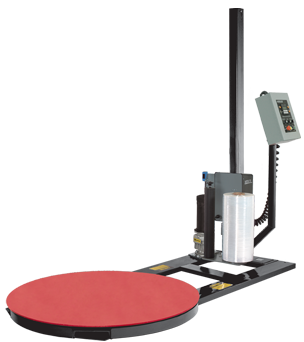 Semi-Automatic Stretch Wrapper Systems

Available in models ranging from entry level all the way to heavy duty, these systems are low maintenance and easy to operate.
The operator loads the stretch wrap and pallet then simply selects a wrapping sequence to initiate the turntable and dispenser. These machines are equipped with sensors that alert the dispenser once it has reached the top of the pallet load, and then signals it to continue the wrap as it lowers into the starting position.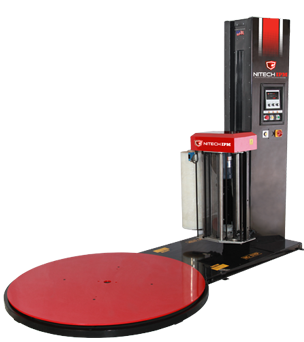 Automatic Stretch Wrapper Systems
Automatic systems feature the ability to pre-stretch the pallet wrap prior to application allowing the film to gain in length and make every roll last longer. They are designed with modifiable programs for pallet types, automatic load detection, and have optional features such as film auto-cut, top compression for unstable loads, and telescoping masts. These units are recommended for heavy duty and high volume facilities with their ability to operate without supervision. Simply load the pallet, initiate wrapping sequence, and remove the pallet once the sequence completes.
---
Also Available: