industrial carts

platform, utility, shelf, dollies, & more

---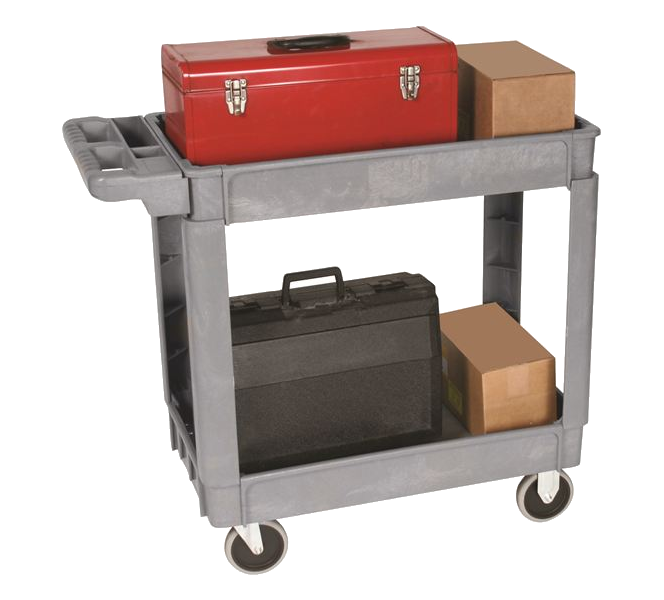 Transport products across the warehouse or move items with you down the assembly line with our large selection of dollies, industrial platform, panel, service, and instrument carts. Featuring popular industrial brands such as Wesco, Nutting, Rubbermaid, and MECO, our selection of carts will provide the ergonomic solution for personnel looking to transport or store products, tools, or supplies.
---
Platform Carts
Available in a variety of sizes and styles including with hardwood and aluminum deck options or as standard platform, tilt, or wagon truck styles. Unless specified, most platform carts come equipped with either 6" or 8" industrial strength casters with steel centers and molded rubber treads for easy maneuverability and added core strength. Ideal for shipping and distribution centers working with a wide range of products.
---
Utility Carts
Utility carts are the top inventory and shelf stocking tool in the industry. With the ergonomic waist-high, top-shelf design, personnel can eliminate bending and twisting while re-stocking warehouses and showrooms. Several styles and sizes of carts are available including the standard plastic 2 shelf cart with the lipped edges, flat top instrument cart for shock absorption, or the mobile steel table cart.
---
Dollies
Dollies are both economical and provide an easy solution to mobilizing heavy equipment or products around your warehouse or work area. Our multi-purpose dollies are equipped with four swivel casters securely mounted onto a aluminum, steel, or hardwood frame to provide easy maneuverability and control. Stocking styles include the carpet and rubber raised end models. We also handle a large variety of other styles including hardwood, steel, and aluminum, open frame with raised ends or flat tops, plastic round drum handlers. Choose the dolly frame that best suits what you are moving for maximum stability and load control.

---
Tilt Carts
Available in 4 grades: utility, standard. heavy duty, and forklift accessible models, tilt carts heavy-duty are for personnel use designed to be both easy to move and easy to unload. Equipped with 2 large rubber tread wheels, the tilt cart design allows for user control when the cart is tipped and contents unloaded. Choose from 1/2 and 1 cubic yard bin sizes.
---
Also Available: