Drum Handling Equipment
drainers, movers, dollies, & more
---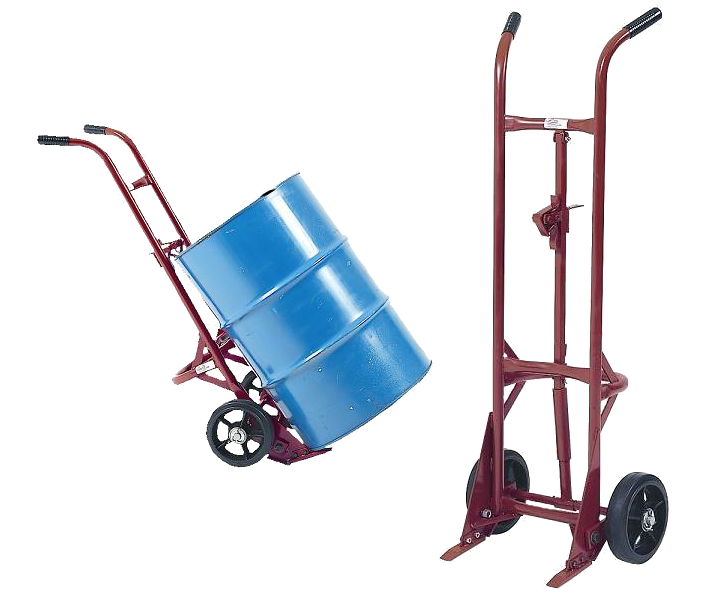 Store, move, drain, load, or dump heavy and bulky drums with our drum handling equipment products. Our selection includes drum storage and pallet racks, dollies, slings, caddies, lifters, and a large assortment of wheeled steel and poly drum handling trucks and carts. Call or stop in at our Sioux Falls, South Dakota location to order your drum handling equipment today.

---
For mixing, draining, moving, and storing drums, both the Wizard and Rock-it have a double welded construction and a unique heavy duty frame that cradles the drum and allows it to be loaded and moved with ease.
As the finest self standing two handle drum truck the Comet Drum Truck features a replaceable floating, spring loaded axle for ease in breaking back and will stand upright for convenient storage without a kickstand. Loads are perfectly balanced so the truck does the work.
The Drainer facilitates moving and dispensing of liquids from a 55 gallon drum into a 5 gallon container and at the same time provides the convenience and ease of operation of a 4 wheel drum truck.
The Hustler Drum Truck us engineered to eliminate problems normally associated with drum handling. It is equipped with a unique chime hook assembly that will handle either steel or fiber drums from 28" to 48" in height. It is designed to provide perfect balance while loading and moving drums.For a self-standing alternative with the Hustler's features, ask about the Challenger Drum Truck.

For drum handling ease with a forklift Drum Caddies allows you to transport drums with your forklift. This simple and inexpensive piece of equipment is designed for safety. The steel band simply slips over your drum and is fastened with a specially designed over-center latch. You can mobilize your 30 or 55 gallon drums with a dolly equipped with four heavy duty, welded to the frame swivel casters that allow the drums to turn 360 degrees for maximum maneuverability. Overpack and Double Drum Dollies are also available.
The Lo-truck is ideal for moving open full barrels without spilling. Heavy duty mold-on rubber, steel, or polyolefin wheels with a 3" swivel caster provide smooth movement and maximum maneuverability over all types of surfaces. Hinged, rigid, or 3-way handles are available.
We have a large selection of both portable and permanent drum racking. Portable and Modular Drum Storage Racks are the most mobile and space saving drum storage systems available. Both are stackable and designed for easy forklift accessibility. Permanent Drum Storage and Drum Pallet Racks are constructed of heavy duty steel angle and engineered for orderly handling and selective storage and removal of 30 and 55 gallon drums.