Dock Levelers
Pit-Type, Vertical storing, & edge-of-dock
---
Docks are meant to service truck and trailers of all different sizes. To keep your shipping and receiving department running efficiently, ensure that your dock is equipped with the equipment to service all kinds of logistics trailers.
Dock levelers
provide a smooth transition plane between the loading dock floor and a truck trailer, dock levelers correct any dock-to-truck height difference while minimizing jolts and dock shock which would otherwise be absorbed by forklift, equipment operators, and even the merchandise load. Dock levelers are perfect for high traffic docks or distribution centers that have a constant loading and offloading material flow. Choose from
Pit-Type Levelers
,
Edge-of-Dock Levelers, or the Vertical Storing Levelers  
to find what best suits your unique application.

Air Powered Pit Levelers
A reliable and economical powered dock leveler that utilizes air bag lifting technology to adjust and move the leveler into position. By a push of a button, the air bag inflates and raises the deck. Perfect for work sites that are looking for an ergonomic alternative for dock workers, and recommended for low to medium traffic docks.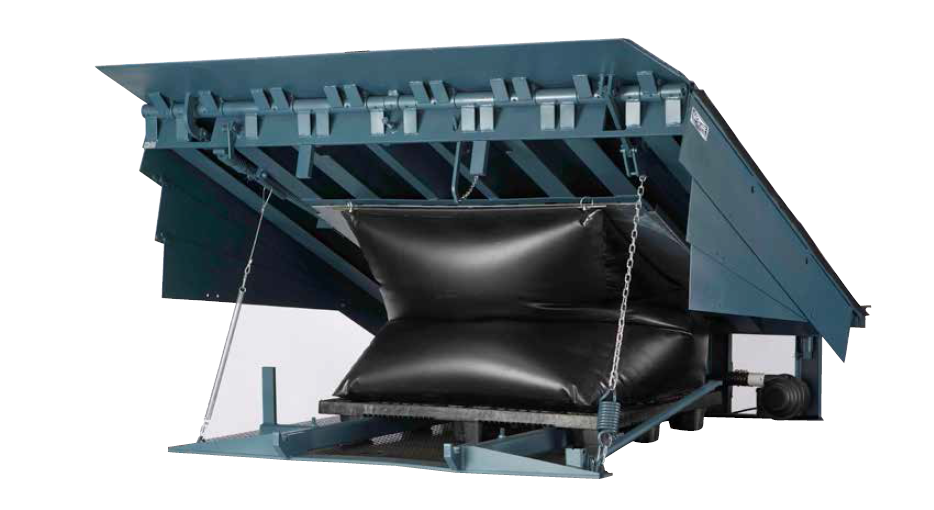 MA Series
The MA Series is designed to provide easy push button pneumatic operation along with dependability and strength in light to medium to some heavy duty applications. This leveler's low maintenance design includes a built in lockout/tagout inspection strut. They are most often mounted in a pre-formed pit at the dock commonly used to reduce the grade between the dock floor and the trailer bed.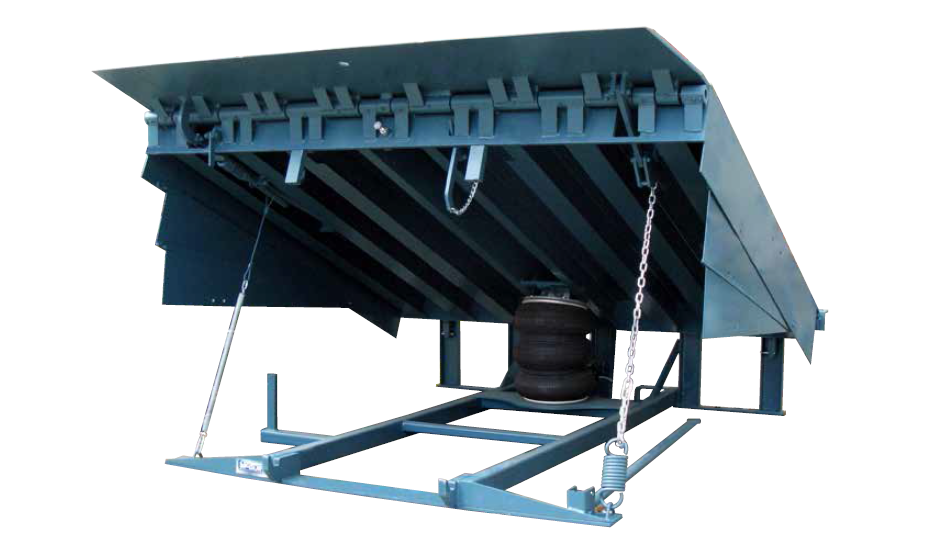 CentraAir® Series

The CentraAir® Series is designed to incorporate the use of common plant air combined with an industrial automotive grade air bellows system to raise and lower the platform. The CentraAir® offers a practical alternative to achieve easy push button smooth, consistent operation, it can also be manually activated via a lanyard control located at the back of the leveler.


Hydraulic Pit Levelers
Ideal for high traffic docks, these levelers are operator controlled electric units equipped with a hydraulic pump that controls the deck height. During operation, the leveler lip automatically extends and rests on the truck bed, creating a safe and usable plane for trailer access and dock equipment traffic.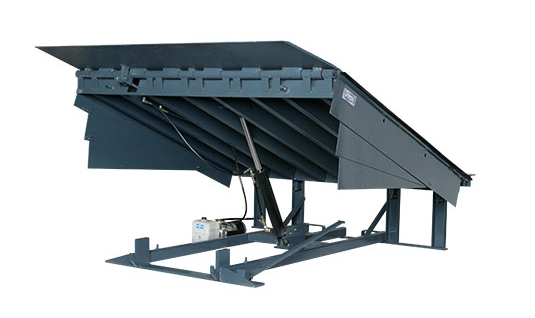 Autodok® H Series
The "H" Series is structurally designed for the most demanding applications with easy push button convenience for smooth, consistent operation plus outstanding toughness and dependability in your most challenging dock operations. Features include velocity fuse protection, full range telescoping toe guards, and a regenerative hydraulic system.Various sizes and capacities allow for a large amount of flexibility.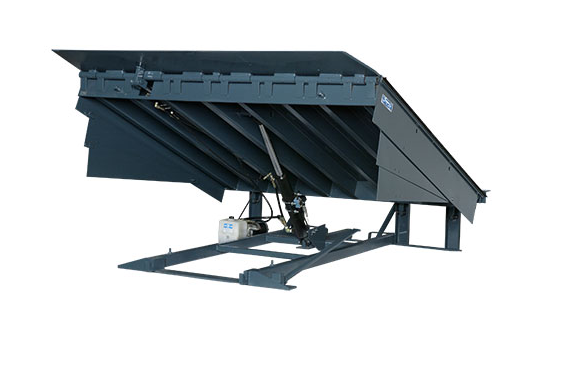 HP Series
The HP Series hydraulic levelers are designed for medium to lighter duty applications. With the same safety features as the heavier duty Autodok® H Series, the HP also offers the same easy push button smooth, consistent operation and the same built in safety, durability and toughness.


Mechanical Pit Levelers
Designed for minimum maintenance and manual operation, mechanical dock levelers are engineered with a pull chain operating system that when activated the chain releases the heavy duty lift springs, raising the deck, and extending the leveler lip. To lower and secure the lip to the approaching trailer, the operator is required to manually move the deck into position, and ready the unit for use.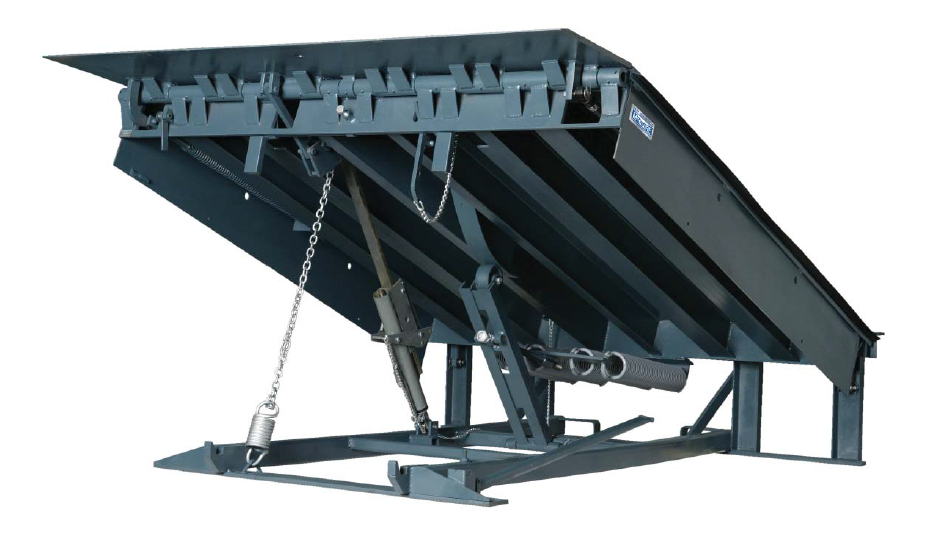 MP Series
The MP Series design allows finger tip release pull chain activation with smooth reliable operation via a cam and roller counterbalance to assure smooth dependable walk down to trailer bed with below dock capability included. The hold down design floats with air ride trailers and its full width rear compression hinge is designed for strength. Designed to be economical and low maintenance.

Vertical Storing Hydraulic Dock Levelers
Ideal in settings where the demand for the tightest environmental seal when not it use is critical, vertical storing dock levelers offer unmatched environmental control for temperature sensitive applications.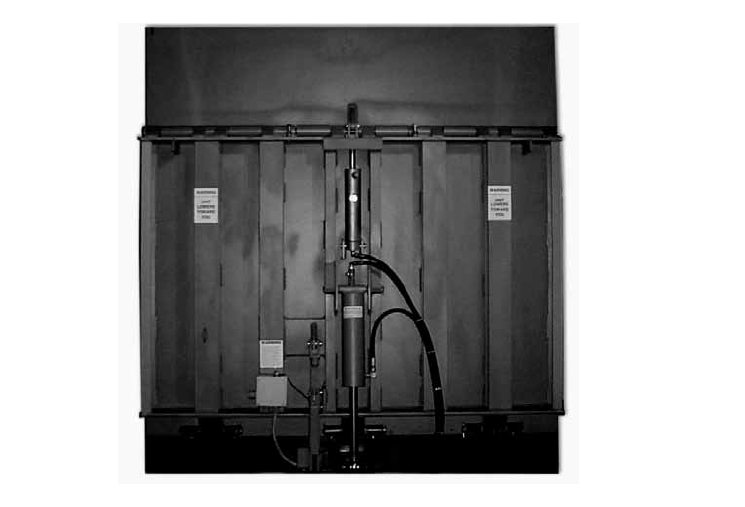 VSH Series
VSH levelers can be installed in either a single pre-formed pit or a longer shelf style pit for multiple units. Vertical storage allows the dock doors to close all the way to the pit floor when the leveler is not in use. The power up and power down control panel allow for push button operation and smooth operations. Safety features include locking mechanisms and standard run-off guards.

Edge of Dock Levelers
Available in mechanical and hydraulic, edge of dock mounted levelers permanently attach to the face of the dock for easy operation and self storage, They are often used when a pit cannot be utilized or as a low cost alternative to the pit levelers.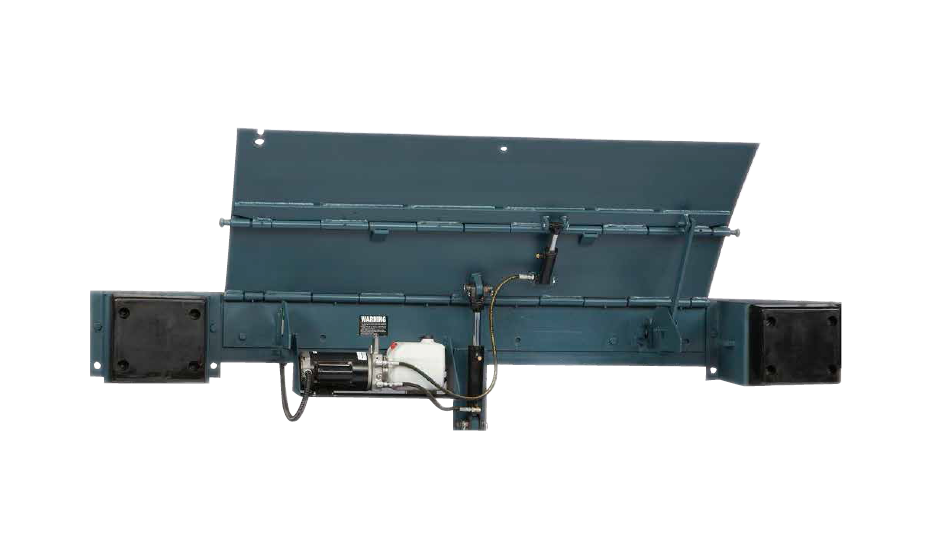 Hydraulic HED Series
The HED Series is a hydraulically operated unit that bridges the gap between building and truck where a minimal variance exists between dock and truck with a recommended working range of +/-3" and a maximum operating range of +/-5" above and below dock level. It's engaged with a simple pushbutton control providing easy activation of the deck and lip.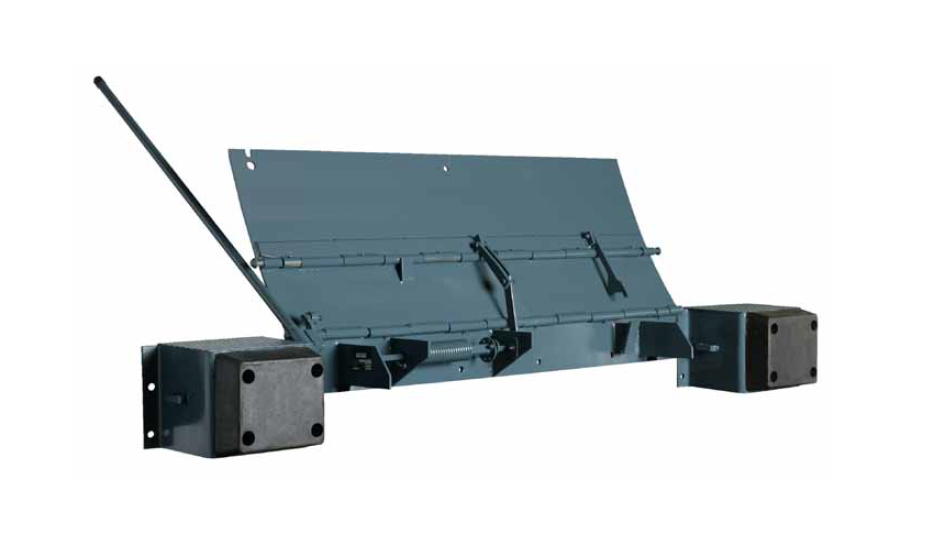 Mechanical MEDLF Series
Mechanical models require the dock attendant to control the leveler lip until it rests on the truck bed, but retracts automatically as the trailer departs from the dock. The MEDLF Series are low cost units meant for a captive fleet of trucks with a similar bed height. They normally mount to the face of the dock and can be placed in a small recessed pit.
Getting Started
Choose Type of Leveler
Take into consideration the amount and type of usage, who will be operating the leveler, future maintenance, and dock layout

Measurements
Identify the dimensions of the leveler by collecting the following measurements & data: Capacity, Pit Width, Pit Length, Pit Depth (Front), Pit Depth (Back), Dock Height, and Building Construction.

Also Available: