Dockboards & Dockplates

aluminum & Steel
---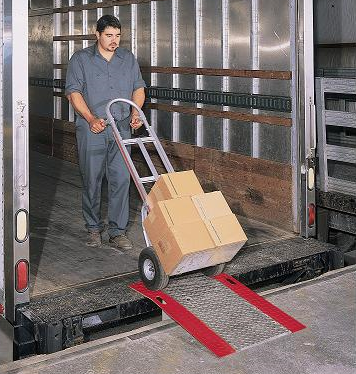 Dockboards and dockplates are the portable solution used to bridge the gap between loading docks and trailers. Ideal for facilities with low truck traffic or temporary dock areas. Dockboards are designed for heavy pallet jack loads or motorized forklift traffic. They are equipped with safety curbs along the sides of the deck face to prevent run off. Dockplates feature a flat deck and are recommended for foot traffic and two wheel hand trucks. As a lighter-duty alternative, dockplates are generally a more economical option than dockboards, however they are not rated for high capacity loads. Dockboards and dockplates are manufactured in compliance with OSHA and designed for user safety and portability.
Dockboards
Dockboards provide a safe ramp between a loading dock and trailer while loading and unloading freight. Dockboards are designed for user safety and heavy-load stability with their built-in locking legs to minimize ramp movement, beveled edges for safe and smooth entry and exit, and safety curbs along the edges. Available in both welded aluminum and steel, dockboards are an approved alternative for loading docks when levelers are not available.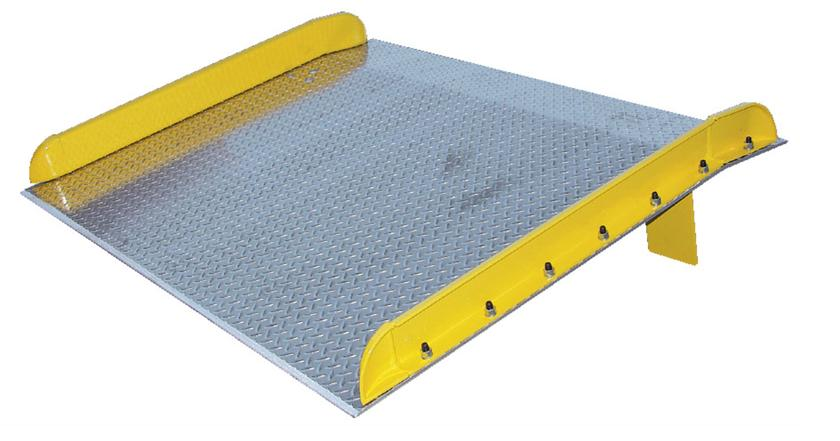 Aluminum Dockboards
The lighter weight aluminum material allows for easier user maneuverability at the loading dock. The dockboard's deck face is made of a high-strength tread plate for high traction as materials move over top of the deck and beveled edges for accessibility. Uniform capacities on standard models range from 5,000lbs - 20,000lbs depending on size.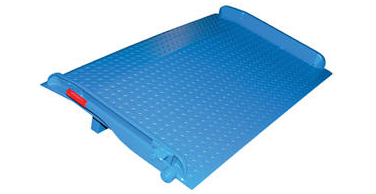 Steel Dockboards
Constructed of all-welded steel, these dockboards are made for strength and long wear life. The deck features a diamond plate for safe and efficient use and welded curbs for added user safety. Because of their weight, steel dockboards are available with optional accessories such as lifting chains, span locks, span pins/holes, and removable pickup loops. Uniform capacities on standard models range from 10,000lbs - 30,000lbs.

How to Order: Dockboards

1. The height difference between the truck and dock in inches
truck height - dock height = height differential

2. Capacity based on the type and load capacity of the equipment that will cross over the dockboard.

3. Select the proper dockboard length by taking into consideration the height difference and desired load capacity.
Note: It is recommended that a minimum board width be 12"-18" wider than the overall width of the vehicle or pallet being used. Increasing board width may increase loading efficiency.


Dockplates
Dockplates are designed to be an efficient and safe solution for two wheel hand truck traffic while loading and unloading cargo trailers. Available in both aluminum and steel material, dockplates are a lightweight solution for any warehouse creating a bridge between dock and truck. Featuring a diamond face tread surface for traction and locking legs to prevent slips and unwanted movement, dockplates are another dock ramp alternative that meets OSHA standards.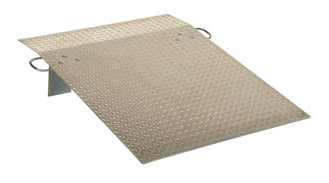 Aluminum
Designed for use with two wheel hand trucks or pallet trucks, aluminum dockplates are lightweight and can easily be moved by just one person. They feature a skid-resistant tread plate surface that ensures safe traction and locking legs for safe loading and unloading. Not rated for forklift use.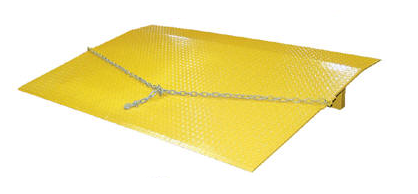 Steel
A heavy duty alternative with the same tread plate and locking leg features of other models. Steel dockplates offer strength and stability, making them able to handle some three wheeled forklifts. For easier handling, a chain pickup is standard on all steel dockplate units.
How to Order: Dockplates


1. The height difference
between the truck and dock in inches
truck height - dock height = height differential


2. The proper plate width.

It is recommended that the width be no less than 12 inches wider than the widest load or equipment being transported over it.
3. Capacity

Hand trucks:
maximum load weight + equipment weight + operator weight = capacity

Pallet jack or platform cart:
(maximum load weight + equipment weight) x 0.75 = capacity
- round to nearest multiple of 50 lbs.
Also Available: