Industrial casters
(Medium-heavy duty)

caster assemblies, wheels, & components
---

G&H offers a full line of industrial casters, wheels, rigs, and components. Featuring standard top plate swivel and rigid casters, wheel options include phenolic, rubber mold-on, polyurethane mold-on, steel/cast iron, and pneumatic. Our medium to heavy duty casters are assembled with steel roller bearings and high quality components making each caster able to handle demanding

applications such as on carts, equipment, or general heavy machinery. Now stocking 2" wide wheels in 4", 5", 6", and 8" diameters.


---
Rubber Mold-On Casters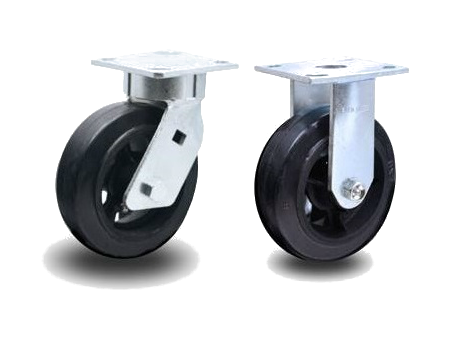 This wheel features a soft rubber tread bonded to a cast iron core. The tread allows for a quieter and smoother ride by absorbing shocks and vibrations as the wheel turns. With less vibrations, equipment lasts longer and cargo stays protected. Equipped with a zerk fitting in the hub for bearing lubrication, the rubber-mold on casters are commonly found on hoppers and other load bearing carts.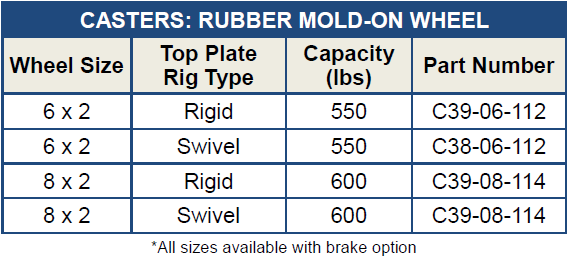 ---
Thermo-Rubber Casters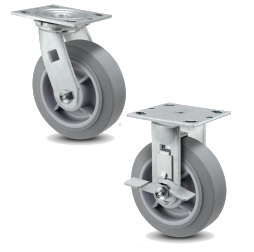 Available in flat or donut tread shapes, these casters feature wheels that are ideal in washdown settings and wet environments. The non-marking thermo-rubber tread offers good floor protection, while providing a quiet, shock-absorbing ride when in use. Now stocking the flat tread style, this caster is available in 4", 5", 6" & 8" sizes.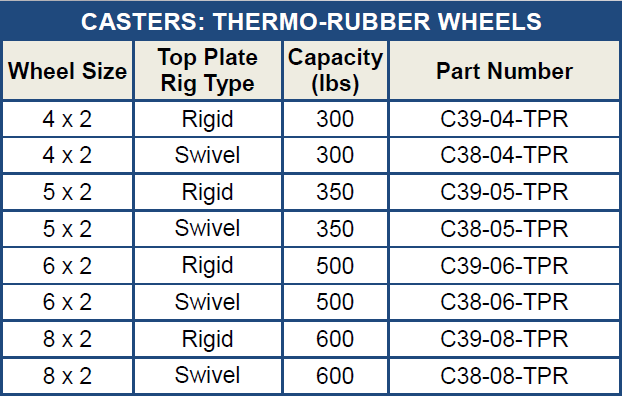 ---
Pneumatic Casters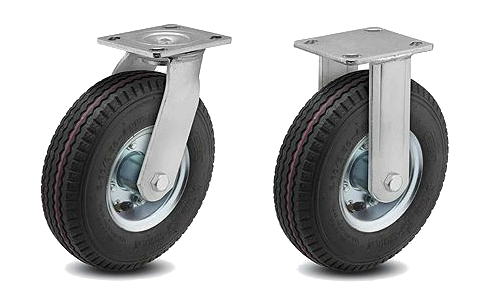 The pneumatic casters air tire design absorbs shock and vibrations throughout the roll, and are great for outdoors and areas with floor debris. Equipped with an easy access valve for refilling, pneumatic casters are the ideal choice when moving objects steadily and securely over rough bumpy surfaces.


---
Phenolic Casters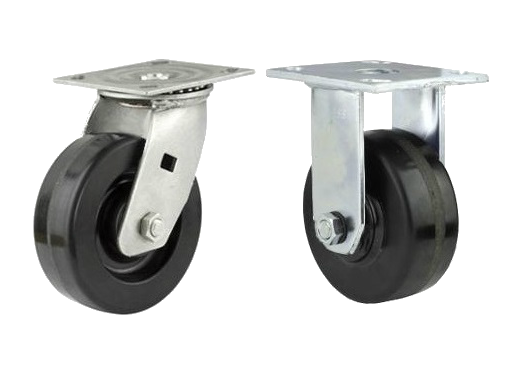 The most economical caster option, phenolic wheels are quieter than steel or aluminum wheels while offering advanced floor protection. Comprised of macerated fabric and phenolic resin, these wheels are designed for excellent durability and are non-marking for floor protection. It is resistant to hard impacts, water, grease, most chemicals, and steam.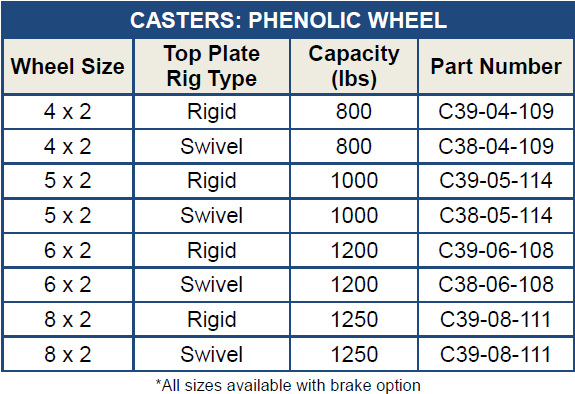 ---
Polyurethane Mold-On Casters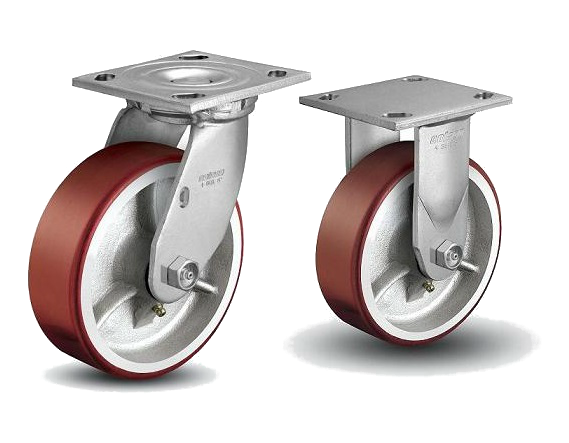 The popular poly mold-on caster features red mold-on polyurethane bonded to its cast iron core, allowing it to endure heavy loads over long periods of time. Designed with a very high strength-to-weight ratio, the poly coating promotes smoother roll and will not develop flat spots if immobile. It is the most widely used caster product in manufacturing facilities utilizing heavy load bearing carts and mobilize machinery.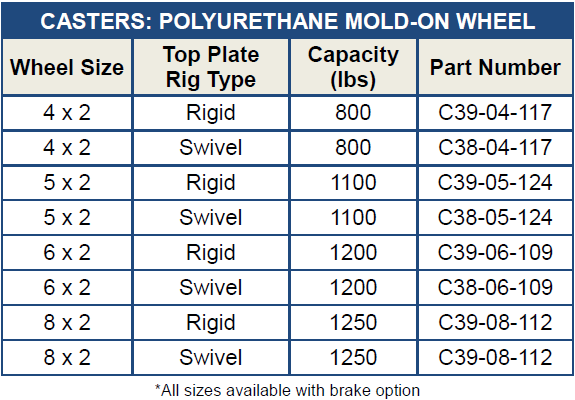 ---
Cast Iron Casters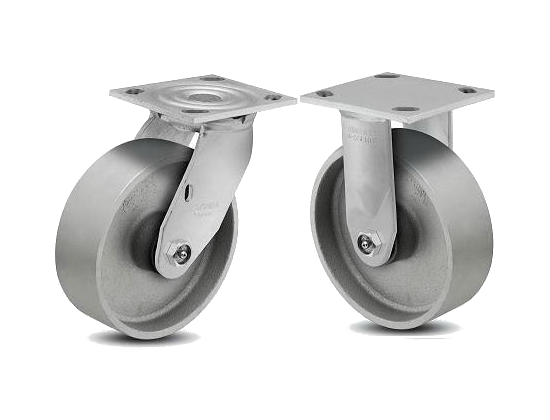 The cast iron wheels are toughened with a blend of steel and cast iron giving the wheel its weight endurance and an exceptionally long wear life. Perfect for heavy loads on the concrete floors of warehouses or manufacturing plant, these forged steel wheels are almost unbreakable, take shock impacts exceptionally well, and can withstand high temperatures. Also designed with a zerk fitting for easy bearing lubrication.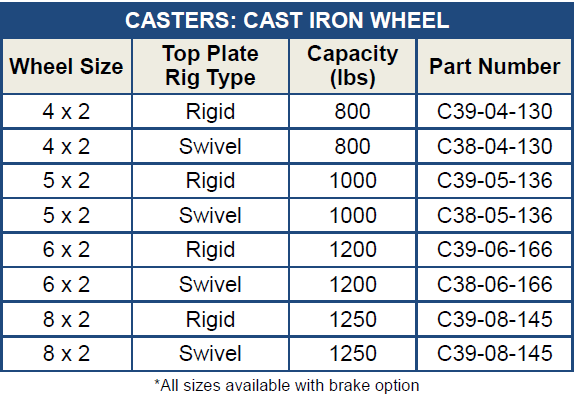 ---